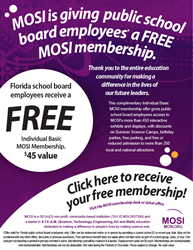 Tampa, Florida (PRWEB) May 29, 2015
As the school year comes to an end, MOSI wants to remind teachers and school board employees that they are thankful for all they do by offering a free annual individual basic memberships on an on-going basis. Employees with a valid school ID from any Florida county can enjoy admission to more than 450 exhibits and displays focused on Science, Technology, Engineering, Art and Math (S.T.E.A.M.) education. Memberships are valid for 12 months from the date of registration. To redeem this complimentary, individual basic membership, teachers, faculty and school employees should visit mosi.org to download the membership form and return it to MOSI's ticket office or by email.
"We have seen such a positive response from area educators by offering school board employees in the tri-county area free memberships. We are thrilled to expand the offer statewide. MOSI's goal is to spread the power of S.T.E.A.M. education through the more than 300,000 school board employees in the state of Florida," said Molly Demeulenaere, Interim CEO and President of MOSI.
With their new membership, Florida school board employees will be able to harness the power of their inner geek with access to interactive science exhibits and visual displays on topics like natural disasters, physics and astronomy. They can travel to the moon on a virtual space transport to help operate a lunar colony in Mission: Moonbase, created with the help of NASA. Then, look into the night sky from 100 years in the past or 100 years into the future in the Saunders Planetarium, the only planetarium in Tampa. School board employees can also learn about the boundless and mind-blowing potential of 3D printing inside 3D Printing the Future- the Exhibition, MOSI's newest exhibition which showcases how this new innovative technology can reshape how they live, teach and play. Their membership will also allow them to explore Kids In Charge!, the largest children's science center in the nation; access to MOSI's inventor's studio, Idea Zone, where budding designers can engineer anything imaginable; and a discount on upgraded membership to the Sky Trail® Ropes Course and Zip Line and Florida Hospital IMAX® DOME Theatre.
"MOSI recognizes the important roles education professionals play in our community, and we appreciate this generous way of acknowledging their impact," said Pasco County Superintendent Kurt Browning.
"We're so grateful to MOSI for making this opportunity available to our hard-working educators," Pinellas County Schools Superintendent Michael A. Grego said. "Free access to the museum's amazing exhibits and displays will certainly pique teachers' creativity and infuse their lesson plans with new vigor, thereby extending the benefit to our students."
Teachers and school board employees with a valid Florida school ID or pay stub can sign up at mosi.org/become-a-member/education-memberships.aspx for their complimentary membership. Each ID is valid for one individual membership. Membership does not include Florida Hospital IMAX® DOME Theatre films, special engagement exhibitions or the Sky Trail® Ropes Course/Zip Line, however these experiences can be added for a discounted membership rate. Special rates are also available for those interested in adding family to their membership.
Museum hours are Monday – Friday, 10 a.m. – 5 p.m. and Saturday and Sunday, 10 a.m. – 6 p.m. For more information, call 813-987-6000 or visit mosi.org.
# # #
About MOSI (Museum of Science & Industry)
MOSI is a not-for-profit, community-based institution and educational resource dedicated to advancing public interest, knowledge, and understanding of science, technology, engineering, art and math (S.T.E.A.M.) and is home to the Florida Hospital IMAX® DOME Theatre, the only IMAX dome theater in the state of Florida. MOSI's core ideology is to make a difference in people's lives by making science real for people of all ages and backgrounds. MOSI gives away more than $ 3 million in free or discounted memberships each year, $ 250,000 in free tickets annually and approximately 600 scholarships each year for children to attend MOSI Summer Science Camps. Additionally, MOSI's education staff works closely with area teachers offering free training and support for area science educators. With a total size of more than 400,000 square feet, MOSI is the largest science center in the southeastern United States. Learn through play inside Kids In Charge! the largest Children's Science Center in the nation or The Amazing You—a 13,000-square-foot exhibition on health and wellness. Conquer your fears on MOSI's Sky Trail® Ropes Course and Zip Line. Budding inventors can engineer anything imaginable and hold it in the palm of their hand in MOSI's technology playground and inventor's studio, Idea Zone; and aspiring astronauts can travel to the moon to operate a lunar colony in Mission: Moonbase, funded in part by NASA. MOSI is the proud winner of the 2009 National Medal for Museums by the Institute of Museum and Library Services, the nation's highest honor for museums and a recipient of the NOYCE Foundation's Bright Lights Community Engagement Award. For more information on MOSI, visit http://www.mosi.org.
Find More New Homes Tampa Press Releases