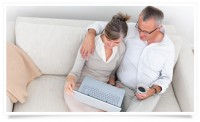 Tampa, Florida (PRWEB) March 18, 2014
One of the most popular investment clients of Advanta IRA hold as assets is real estate, using a self-directed plan commonly called a real estate IRA. As a self-directed IRA administrator, Advanta IRA Services neither sells investments nor gives investment advice. However, their team of experts does provide cutting-edge curriculum specifically designed for investors to learn how self-directing retirement and other savings plans can build income on a tax-free or tax-deferred basis.
"Investors are attracted to self-directed IRAs because they want to choose their own investments and because self-directed plans allow many types of alternative investments, such as real estate, not offered by typical brokerage houses or investment firms," says Jack Callahan, Managing Partner of Advanta IRA Services in Largo, Florida.
Clients of Advanta IRA have invested their self-directed real estate IRA funds into:

    raw land
    single and multi-family rental properties
    rehab and flip projects
    commercial properties
    private mortgages
    tax liens
    many more real-estate related investments
"Advanta IRA offers weekly educational events—most at no cost to attendees—because we believe that knowledge is power, control is key, and diversity is essential to the success of retirement portfolios," says Callahan. These events provide critical information about self-directed IRAs and other accounts that investors must be aware of when considering self-direction and controlling their investment choices. Not only do attendees learn about compliance within IRA standards, but they also walk away with increased knowledge of the myriad of alternative investments permissible in self-directed plans, which offer diversity across the board.
Investors of all levels who want to learn more about real estate IRAs are encouraged to attend this webinar.
Event: Webinar: Using Your IRA to Profit on Real Estate

Date: March 24, 2014

Time: 12:00 p.m.-1:00 p.m.

Location: Online

Cost: No charge

Registration: Contact Larissa Greene before 9:00 a.m. on March 24th at lgreene(at)advantairagroup(dot)com or by phone at (800) 425-0653 ext. 1140.
About Advanta IRA
Advanta IRA Services, located in Largo, Florida, has been in operation for over ten years, providing administrative service to owners of self-directed IRAs throughout the Tampa Bay and Sarasota, Florida regions. Advanta IRA Administration offers a second location serving the Atlanta, Georgia area and surrounding regions. Both offices are managed by Jack Callahan, J.D., CFP™. Advanta IRA offers classes, seminars and other educational tools designed to assist clients in managing self-directed IRAs by investing in real estate, notes, private placements and other non-traditional assets that have the potential to maximize IRA earnings on a tax-free or tax-deferred basis.
About Jack Callahan
Jack M. Callahan, J.D., CFP™, is the managing partner at Advanta IRA Services in Largo, FL and Advanta IRA Administration in Atlanta, GA. Jack established the corporate office, Advanta IRA Services, in 2003. Prior to that, Jack delivered specialized counsel to real estate investors, small business owners and real estate professionals on tax, legal and financial matters. As an industry expert, Jack is a frequent speaker on the topic of self-directed retirement plans and an accredited continuing education instructor for the Florida and Georgia Bar Associations, Florida and Georgia Real Estate Commissions, and The American Institute of Certified Public Accountants. He earned his bachelor of science degree in finance and multinational business from Florida State University and his law degree from the University of Florida College of Law.