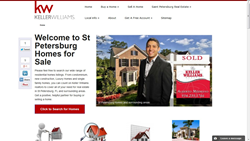 St Petersburg, Florida (PRWEB) March 08, 2014
Keller Williams St Pete Realty, is offering no-cost Real Estate alerts to its customers via e-mails. The alerts will be for homes in St. Petersburg, Tampa, Clearwater and surrounding areas. The customers should create an account on the company website to enjoy the benefits of the new tools.
One of the company executives said, "We have added the SearchSaver tool in our website which allows you to save your listings and manage and view your searches at any time. You will receive an e-mail notification when new listings that fit your search criteria become available. The first time you add a SearchSaver, you will be prompted to create an account. We are pleased to pleased to provide you these new tools and we hope you will find it useful."
The user has to just click on the tab on the top of the page which says 'e-mail me when new listings match this search'. Once the user runs an initial search, he can opt to refine his search. This will narrow down the search results to fit new criteria, such as price range, minimum square footage and more. Every time he makes a search, he will have the option to save it and receive an e-mail notification when new listings that fits his search becomes available.
"Apart from the SearchSaver, we have also added the Favorites tool for your convenience. This tool allows you to save listings to your Favorites folder and e-mail them. If you want to add a listing to Favorites, click on the Add to Favorite link in the Tools box. The first time you add a Favorite Listing you will be prompted to enter your login information. Once you're logged in, you can add, remove or view e-mail without re-entering login information," added the executive.
Keller Williams St Pete Realty is a trusted name in the real estate deals in Florida. From condominium, new construction, luxury homes to single family homes, buyers can rely on Keller Williams home listing in St Petersburg, FL. The company also provides a custom evaluation for homes in St Pete including comparable to other homes that have been recently sold or are in the market.
About the Company:
Keller Williams St Pete Realty is a renowned real estate company, serving Tampa, Clearwater, Largo, St Petersburg and surrounding areas. Alberto Medrano, the company's real estate agent in St Petersburg Florida, has years of experience in selling residential home listings. For more information on South Tampa real estate for sale visit website.
Contact Information:
Phone: 727-851-6488, 727-894-1600

Website: http://stpetersburghomes4sale.net